Bobby Davis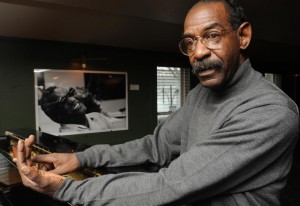 As a musician playing piano and oftentimes, vocals with emerging jazz and R&B groups immediately after high school, traveling in and out of the country with my Fender Rhodes by my side, I found myself exhausted and needing a break from the road. It was then I remembered the words of my father who wished me well as I left the boundaries of Providence, Rhode Island years before, "Son, don't forget to give college a chance". When I had an impromptu moment with one of the giants of jazz – Mc Coy Tyner, and he reinforced the same, I quickly took the advice. I arrived in Amherst, MA. in 1977 in search of a childhood friend who was attending the university and soon after, I navigated my way into the University Without Walls Program.
I quickly became active in student affairs particularly with NUMMO NEWS – a weekly section of The Collegian. Given my first assignment to cover a concert by nationally renowned guitarist, Michael Gregory, I was shaken by the fact that there were no photographers. I ran back to the NUMMO NEWS office and without second-guessing myself, I took a camera and ran back to the concert. The next morning I was in the darkroom of The Collegian, excited to see what I was able to capture when a writer from The Amherst Record came in to ask me for one of my photos to include in his article. Later Michael Gregory himself came to me and offered me to do press work for him. So it came to be, once I lugged my Fender Rhodes by my side and here I am with a camera attached to my hip.
Less than a year later, I sent a proposal to the Dean of Smith College to be the yearbook photographer. After one season with Smith College, I submitted a resume to a yearbook company in New York City – Delmar Studios – and was gainfully employed for 3 years but again on the road traveling to the Midwest and South.
Through the years I have taken many photos and lasting images of families and friends, performance artists in the streets, our family's journey to the Philippines and the Far East but nothing compared to the moments I spent with these musicians – most of them long gone but not so long ago, they came to our valley and shared with us their precious gift of music. I, who love music understood all too well the arduous roads that brought them to us and for me it was like traces of a memory.